So You Want To Volunteer?
Volunteering your time for a good cause is a great thing to do. Not only do you get that warm fuzzy feeling knowing you're helping someone and making the world a better place, but you get to learn new skills and expand your own horizons. But there are so many different ways to spend your time, how do you decide what to do?
First you need to decide what kind of volunteering you want to do – do you want to work with people? Or help save the planet? Or care for animals? And then you also need to decide where you want to volunteer. This will affect your entire experience. Volunteering could be a good way to spend your weekends, or it could be the adventure of a lifetime.
Volunteering At Home
Volunteering at home is perhaps the easiest way to donate your time to a good cause. Maybe your local community centre needs some help with an event, or you want to fundraise for a charity that helps a cause close to your heart. Or maybe the animal shelter up the road has a really cute dog you can't adopt, but you love the idea of spending weekends getting slobbered on by excitable dogs.
There will always be plenty of people in your area who will appreciate you giving up your time to help them. It only takes approaching the right person to get involved. The best part about volunteering at home is that you get to be an active and valued member of the community, being a part of improving your area and making life better for the people around you.
As well as helping out a worthy cause, volunteering can help you. If you're at school, or if you're struggling to find work, volunteering will look great on your CV. It demonstrates that you're a kind and giving person, and that you're willing to work hard without expecting much in return. It is also an excellent way to get some work experience in a field you might be interested in pursuing as a career. If you want to work with animals, having experience volunteering at a shelter or rescue centre will set you apart from the rest. Or if you're thinking about teaching but don't want to commit to a career path quite yet, then volunteering is the best way to gauge whether it is something you want to do.
It can also help you by improving your own life. Volunteering can be a way to shake up a dull routine. Or it can be a challenge for you to overcome, making you a better and stronger person at the end. It's also a great way to meet new people and make friends who have similar interests. If you're passionate about the environment, volunteering for a cause that advocates an eco-friendly lifestyle will introduce you to a whole host of like-minded people.
The most appealing part of volunteering at home is perhaps the flexibility it offers. You can still go to school, do your job, or care for your family, and spend a few hours a week volunteering. It can nicely slot into your already-established routine, whilst adding to your skills and happiness.
Volunteering Abroad
Where volunteering at home allows you to maintain your familiar home comforts, volunteering abroad will completely change your life. Volunteering abroad is a completely immersive experience that can expose you to new cultures. It will broaden not only your practical skills, but your awareness of global issues, making you a true World Citizen.
Volunteering abroad is far more than just giving your time to help someone. Volunteering abroad means living abroad – even if it's just for a couple of weeks. You will be an integrated member of a community, not another tourist in khakis looking for the nearest attraction. By volunteering you will get the authentic experience of the country you go to. You will see the reality of life in that country, rather than the sugar-coated, souvenir-filled version you would see if you went on holiday.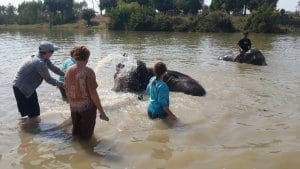 There are many different ways you can choose to volunteer abroad; organisations such as Volunteering Journeys offer projects in teaching English, wildlife and marine conservation, and building projects. And if you are medically trained or what to get experience in medicine you can offer those valuable skills up to a disadvantaged community and save lives on our medical volunteering abroad. Depending on the work you want to do, with Volunteering Journeys you can go to countries in Africa and Asia, including India, Nepal, Bali, Mozambique, Sri Lanka, Thailand, South Africa, and the Maldives.
One of the biggest perks to volunteering abroad is your free time. You will spend your weekdays working and making a difference to a community, but your weekends can be spent travelling and exploring, lying on a white sand beach, trying as much local food as possible, or trying activities like shark diving, going on safari, or trekking under the shadow of Mount Everest. A few weeks volunteering abroad will leave you with memories to last a lifetime.
What Can I Do?
There are two main elements of volunteering: the work you will be doing, and where you will be doing it. So you need to decide which is these is your priority. But no matter which project you choose, you will be make a different to the people you work with, and you'll get to explore an amazing new culture.
One of the most popular ways to volunteer abroad is by teaching. This is incredibly rewarding work, teaching English to young children who are much less fortunate than you. You could be teaching in Indian slums, rural Thailand, Nepal's capital, Sri Lanka, Bali, or South Africa. These countries are all beautiful and diverse in their own ways, and you will have plenty of time to discover this whilst you volunteer.
If conservation is your thing and you want to discover the wild side of Africa or Asia, then there are projects perfectly suited to you. In Mozambique you can get involved in a hugely important conservation project at Tofo Bay (think of the sunsets!) where you can scuba dive in the sea and collect data, contributing to vital research.
For a more land-based conservation project, you could go to the beautiful and diverse South Africa, home to The Big 5. You'll volunteer at a game reserve and help to track and identify animals, and assist in other aspects of the park. If an African safari is something you've always dreamed of, this takes it to a whole other level. You'll also get the opportunity to explore the Garden Route, Port Elizabeth, or the breathtakingly dramatic city of Cape Town.
Alternatively, in Sri Lanka you could get hands-on with sea turtles and volunteer at a hatchery. You would get to care for and feed the baby turtles, whilst also working in outreach programmes within the local community. You will even get to help return the tiny little dudes back into the sea so they can start their exciting lives in the big wide world, an experience that is sure to stay with you forever.
If you're a medical student, volunteering is an incredible way to make you stand out from your peers. Whether you're studying medicine, nursing, dentistry, midwifery, physiotherapy, occupational therapy, or other areas of health care, there is a range of medical projects available that you can be a part of. Not only will you change lives, you'll get valuable work experience as well as life experience.
There are also a variety of community work placements you can get involved in. Teach, work with local charities, support women's empowerment, or coach sport, there's something for every person of any age or background. And if you want to get really hands on, opt for a construction placement, helping communities to build homes and schools. This project is also available to under 18s; groups from schools can volunteer in communities, working alongside locals to build and teach.
Who can do it?
Volunteer work does not discriminate. As long as you're willing, then your help is appreciated and you can get involved. The most common age group is 21-25 year olds, so young adults who perhaps want to get some unique life experiences before starting a career. But projects like these are ideal if you have just finished school and are taking a gap year. Gap Year programmes are 2 to 4 weeks long, and it is guaranteed to be a highlight of your year out.
Volunteering is an amazing and rewarding thing to do on your own. So imagine how much more incredible it could be with your family. Volunteering Journeys offer family volunteer projects that mean you can travel to South Africa, India, Nepal or Sri Lanka with your family and spend up to a month teaching English, coaching sports, or working in a national park. These projects will be tailored to fit your family, so it is suitable for under 18s. This is a unique way to travel and give back for you, and it will give your kids an incredibly valuable experience. They will see different cultures and work alongside them, broadening their horizons and exposing them to a life that is very different to their own, whilst also getting the holiday of a lifetime. What better way could you spend the school holidays?
Or if you're looking for something the complete opposite of that and you want to do something without the kids, or need a career break, projects like these are ideal. If the tedium of ordinary life is getting to you, take some time away by exploring an amazing country and giving back to a needy community. It is a great way to add some excitement into your life, do something unique and amazing, and when you return home you will be recharged, refreshed, and full of incredible stories to share with friends and family.
Although the projects might be most popular with young adults, there is no age limit and there are programmes specially designed for volunteers over 50. This could be an amazing thing to do if you've taken an early retirement, or if you've finally got the kids out the house and want to treat yourself to an amazing experience, or if you have decided that you want to see a new part of the world and want to give back at the same time. Projects for over 50s can be designed to fit your needs perfectly and allow you to get engrossed in voluntary work whilst also being close to tourist attractions.
What are you waiting for?
Volunteering in your community at home is great, and you can make a big difference. But if you've got the volunteer bug, or want to travel in a unique way, or want a more immersive holiday, volunteering abroad will be the best thing you'll ever do. There is a project suited to every person, no matter your age, background, or interests. So what are you waiting for? Find the right project for you and start changing lives.